soul abundance
caro fenno
september 20-29, 2019
MOROCCO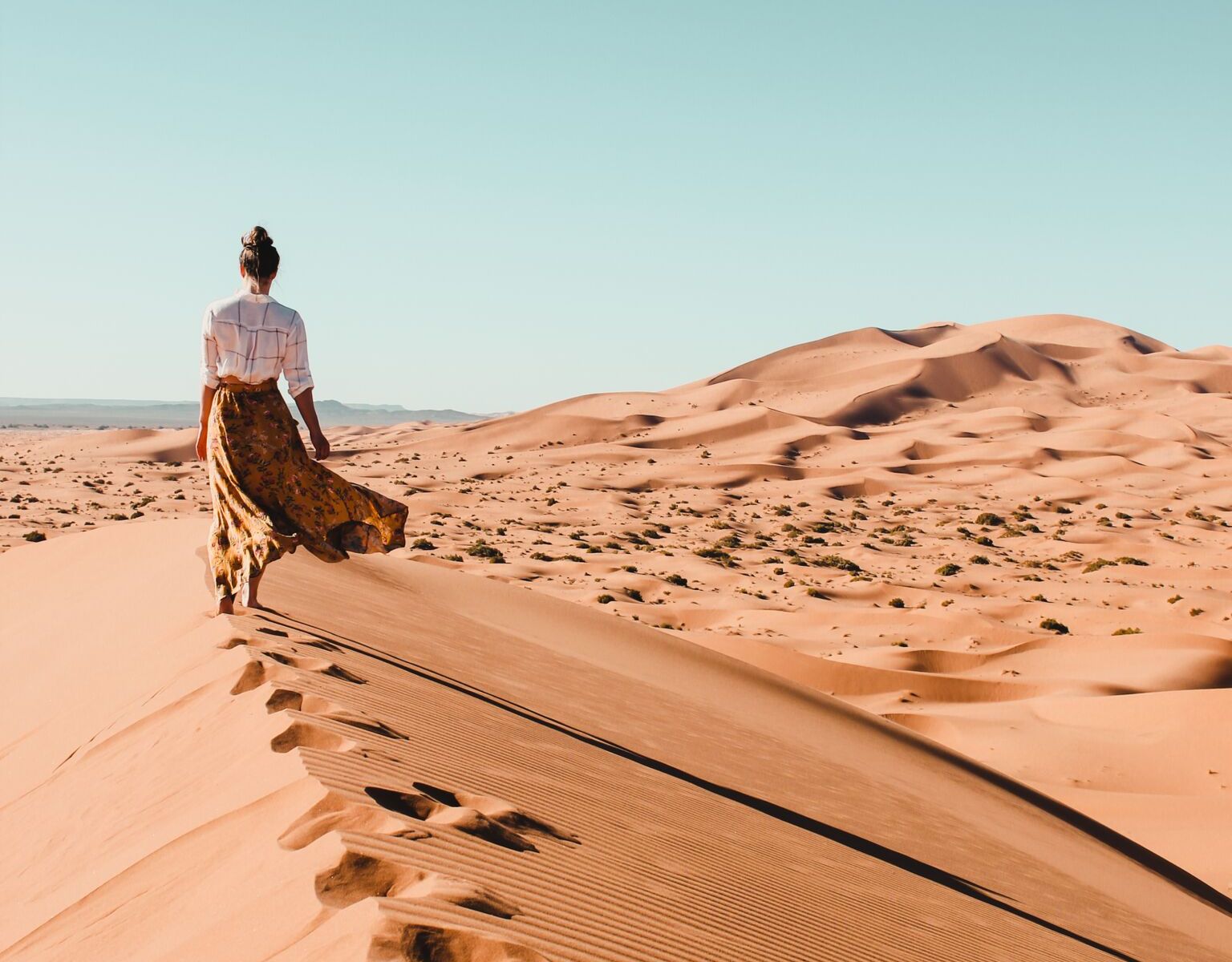 daily Yoga w/ Caro fenno (All levels)

sleep under the stars of the sahara desert

hike the stunning atlas mountains

Get lost in the ancient medina of marrakech
Caro fenno
I believe that if you can breathe, you can do yoga. My classes invite students to follow their own bodies, noticing sensation and honouring the needs of their bodies in the present moment. I teach a variety of styles from dance-yoga, to yin/yang, to a creative playful flow, to a more interoceptive and invitation style (known as Trauma Sensitive Yoga) which can be useful in conjunction with therapy as a treatment for complex PTSD.
I grew up in Rabat, Morocco and I currently live in Palo Alto, California with my husband in a tiny cottage with a glorious garden. I try to keep learning everyday, I try to accept when I am wrong, and I try to see the light in others, treating them as if that is all I see. We are all works in progress.
I am so excited to show you all the beauty of Morocco!
ruby smith
While I am primarily a contemporary choreographer and dancer, I discovered yoga at an early age as a natural parallel to my love of dance. I noticed how the two forms of moving and working with the body compliment each other and can be intertwined. Observing this connection led to developing an even deeper interest in yoga not just as a physical asana practice, but as a philosophy and mode of self-betterment and self-care.
I am originally from Minneapolis, Minnesota, but I have lived in Tangier, Morocco for the past 5 years, teaching dance, regular hatha yoga classes, and leading community workshops in yoga flow and barre.
In all of my classes and practice, I focus on finding alignment, ease and fluidity in the body while at the same time building strength and stamina to encourage inner confidence and mindfulness as a daily practice. As both a dancer and yoga teacher, I believe in the power of physical movement in changing and bettering our internal and external lives.
The schedule
starting in the hustle and bustle of the ancient marrakech medina, we will embark on a journey through this magical country, exchange with beautiful people, and deepen our practice with stunning backdrops, be it the snow-capped atlas mountains or the high dunes of the sahara desert :
settle in to the boutique ksar kasbah riad (link)

Unwind & Kick back at our welcome home Dinner

Kick off with a grounding opening practice
practice with a morning meditation & Yoga

get lost in the ancient medina of marrakech

experience sunset rooftop yoga at our riad
arrive at kasbah bab ourika (LINK)

enjoy morning yoga & a walking meditation

hike the beautiful atlas mountains and have lunch at a local berber family home

Driving Time: 1 hr
Discover the vastness of the sahara deserts at kam kam dunes (LInk)

practice yoga on the dunes

enjoy a memorable sunset camel ride

Driving Time: 5 hrs
start the day with a morning practice

cook wholesome moroccan food

enjoy a restorative yin practice
stretch out your body in the morning

unwind with a yin/yang practice

stargaze with a local astronomer
road trip to l'ma lodge in the skoura oasis (Link)

practice yoga under the palms

enjoy a free evening

Driving Time: 5 hrs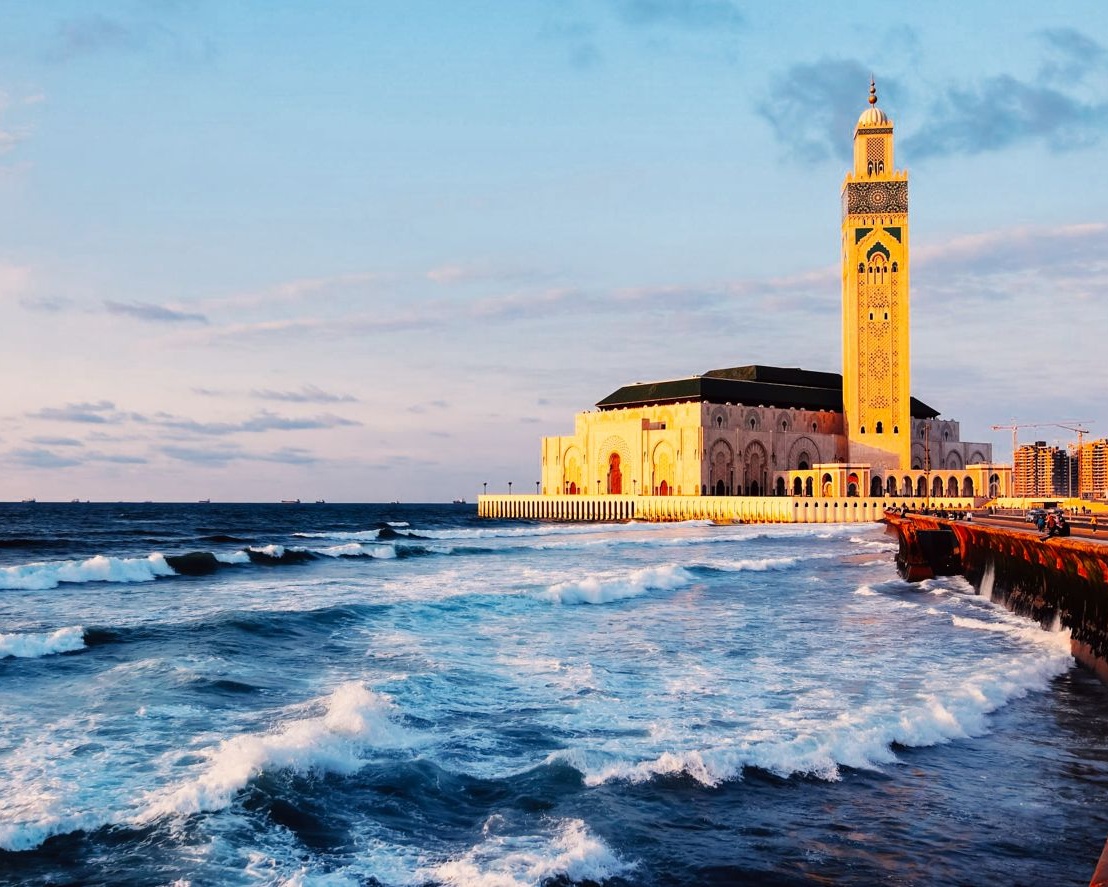 experiences a very special casablanca through the eyes of a local

close the trip off with a final meditation and gentle practice

enjoy the last night with old and new friends at the doge hotel relaix & chateaux (link)

Driving Time: 2 hrs & 1 hr flight
picnic in a special place by the water

unwind with a gentle afternoon practice

experience a nighttime star bath meditation
KSAR KASBAH RIAD
KSAR KASBAH & SPA IS A BOUTIQUE RIAD IN MARRAKECH.
NOT ONLY ROOMS BUT A WAY OF LIFE. KSAR KASBAH & SPA OFFERS A UNIQUE EXPERIENCE. ENJOY THE AUTHENTIC MOROCCAN CULTURE IN THE HEART OF THE MEDINA, TASTE THE ART OF SLOW LIFE IN A LAID-BACK SPIRIT. A PERFECT COMBINATION TO DISCONNECT AND EXPLORE THE RED CITY.
Kasbah Bab Ourika
HIGH UP IN THE ATLAS MOUNTAINS, THE ENCHANTING KASBAH BAB OURIKA OVERLOOKS A BREATHTAKING LANDSCAPE. 360 DEGREE PANORAMIC VIEWS? CHECK!
FROM YOUR HILLTOP LOOKOUT AT THE APEX OF THE OURIKA VALLEY A FEAST OF NATURAL BEAUTY WAITS TO MELT YOUR HEART. GAZE DOWN TO THE RIVER AND LET THE OLIVE GROVES, ORANGES AND LEMONS LEAD YOUR EYES ON A COLOURFUL DANCE BETWEEN THE GREEN FIELDS ALL THE WAY UP TO SNOWY MOUNTAIN PEAKS DAZZLING IN THE SUNLIGHT.
THE AUTHENTIC CHARM OF THE KASBAH BAB OURIKA MAKES RELAXATION EASY. WHETHER YOU'RE CHILLING IN YOUR INDIVIDUALLY DECORATED ROOM, OR UNWINDING BY THE SECLUDED SWIMMING POOL, GET READY TO BE WARMED BY THE YUMMY MOROCCAN SUN FROM DAWN TILL DUSK.
KAM KAM DUNES
At the heart of the Sahara Desert, the traveller is immersed in a stunning natural landscape. We are a nomadic camp equipped with eleven tents -traditional nomadic Berber tents- built with organic dromedary leather and handmade by local artisans.
Each tent has a private bathroom with hot water shower and possibility to accommodate two or three adults. Kam Kam Dunes are not only exclusive tents. The camp has a dinning tent and a chill-out area with views over Erg Chebbi.
l'ma lodge
Traditionally built adobe house, located in the heart of the palm groves of Skoura, in the greenest part, the Lodge has a large garden with hundreds of palm and fruit trees and a free form pool. It shows a natural look perfectly well integrated into the surrounding. The L'Ma Lodge opens its doors to travellers looking for charm and authenticity in a green setting 40 km from Ouarzazate.
LE DOGE Relais & chateaux
Hotel & Spa Le Doge is located in the Art Deco quarter of Casablanca. This former mansion has been transformed into a 5-star luxury hotel, recalling the refinement of the 1920s and 30s with each one of its 16 rooms inspired by the style of an artist from that period: Hemingway, Cocteau, Colette... Nestled in a quiet alley close to the Cathedral but in the economic heart of Morocco, Le Doge is a hotel perfect for a business trip or an elegant place to stop and discover the "White City."
culture
wholesome moroccan Cooking Class

Tour of the old medina

atlas mountain hike

stargazing with an astronomer

sunrise camel ride

casablanca tour a-la-sunnysideup

welcome home dinner

special lunch in skoura
WELLNESS
Daily Yoga and/or meditation Sessions

one lululemon 3 mm mat

one block

one strap
Basics
2 nights at ksar kasbah riad

2 nights at kasbah bab ourika

2 nights at l'ma lodge

2 nights at kam kam dunes

1 night at Le Doge hotel

internal flight from errachidia - casablanca

all SCHEDULED transport

airport transfer (Marrakech airport)
FOOD & drinks
all breakfasts

all lunches inc. water & tea

all dinners inc. Water & Tea
What's not included: International Airfare to Morocco, Private travel insurance (Mandatory), anything not listed above
book now
PAY $1,000 USD Deposit and select accommodation to book your place!
PRICING //
$3,500 per person - Standard Room (Shared Occupancy)

$4,500 per person - Standard Room (Single Occupancy)

$3,800 per person - Suite (Shared Occupancy)

$4,900 per person - Suite (Single Occupancy)
Good to know
if you need help with finding the best flight options, shoot us an email or whatsapp and we will gladly help!

reserve your spot with a small deposit. This is fully refundable within 7 days.

For best value price, select 2 px occupancy and we will match you with a same-sex roommate.
FAQ
what time does the retreat begin and end?

The retreat will begin at 5 pm on September 20th and end at noon on September 29th.

what airport should I fly into/fly out of?

You should plan to fly into Marrakech International Airport and fly out of Casablanca International Airport. If this is not possible, we can easily arrange transfers at an additional cost (3 hrs drive between Marrakech & Casablanca).

What should I pack?

You will receive an email 3 weeks before the trip with tailored packing details.

Do I need travel insurance?

All guests are required to have their own individual comprehensive travel insurance.

i have dietary restrictions, are you able to accommodate for those?

Absolutely, all of our retreats offer vegetarian or vegan options. For other restrictions, we will have to check with our partner venues but we are more than happy to accommodate.

Do i need a passport / visa?

All international travellers to Morocco need a valid passport. American, Canadian, and EU citizens don't need a visa for tourist travel to Morocco. For all other inquiries, please check online or with your local Moroccan embassy. Here is a link for a quick internet search.

Are transfers included?

Yes, all transfers are included except in the case you don't fly into Marrakech and out of Casablanca.

How long will the travel time be?

Day 3 - One hour drive from Marrakech to the Atlas Mountains

Day 5 - Five hour drive from the Atlas Mountains to Skoura Oasis

Day 7 - Five hour drive from the Skoura Oasis to the Sahara Desert

Day 9 - Two hour drive & 1 hr flight from Sahara Desert to Casablanca