November 20-24, 2019
Atlas Mountains - morocco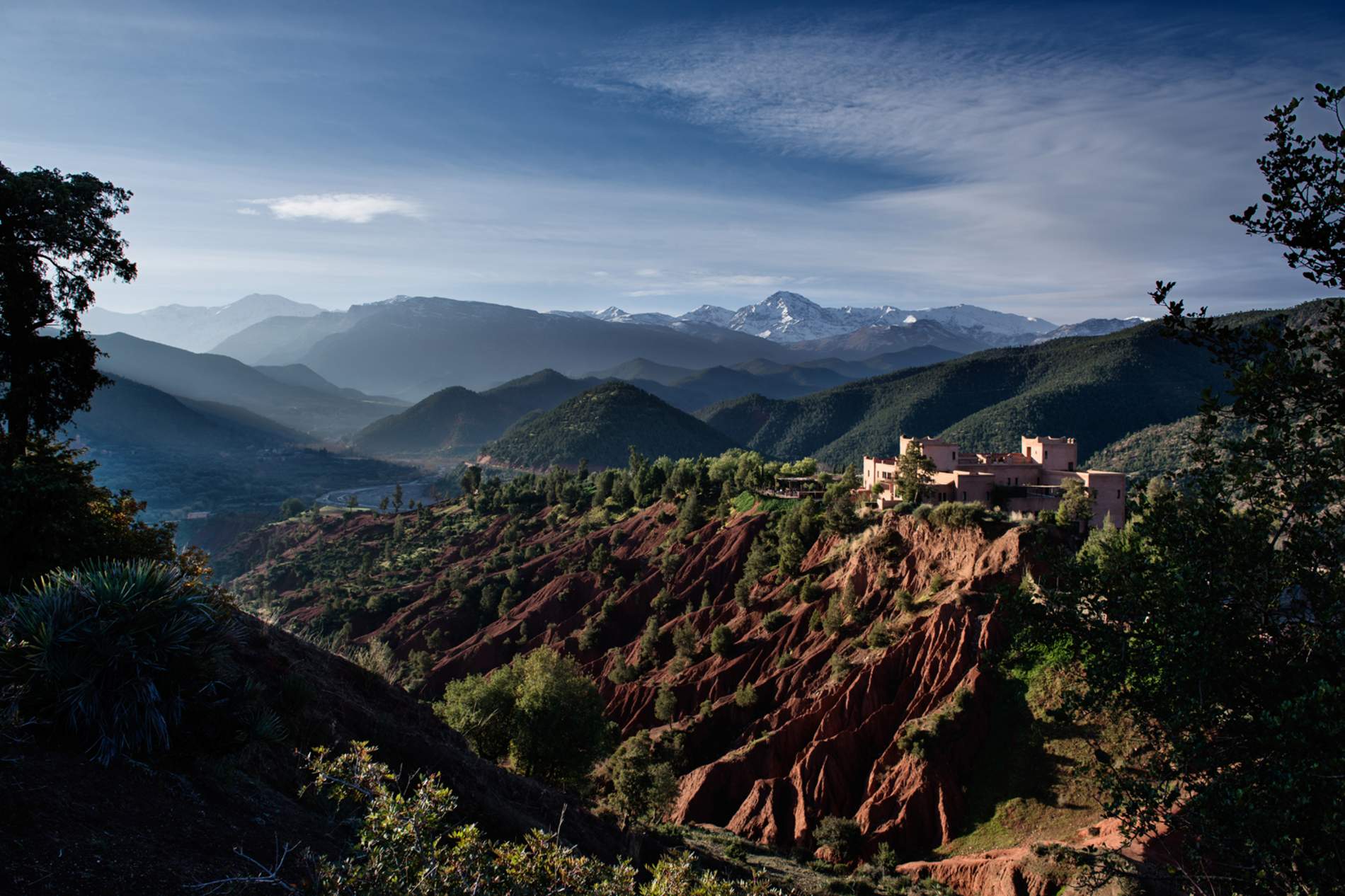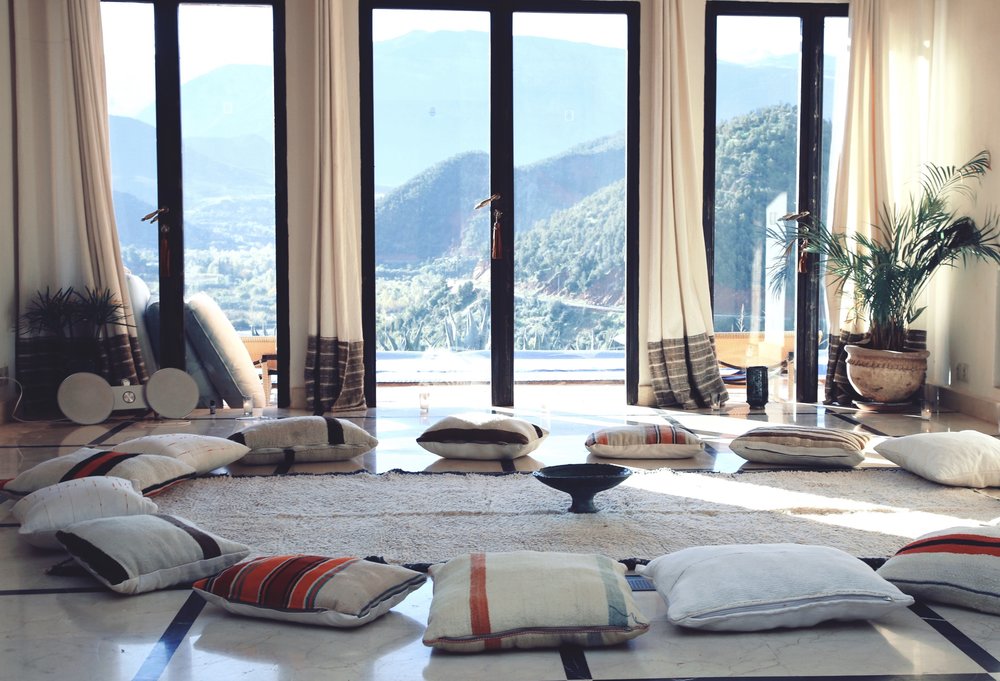 Morning runs & HIiT sessions in the open space of the Atlas Mountains

Time & space to develop advanced yoga

Hike through Ourika valley with lunch in a local Berber home

Wholesome Moroccan cooking class & organic culinary experience throughout
Get Out Of Town
Routine is good. And then it isn't. Sometimes we need to break out and get away.
Third Space Escapes puts everything you love about working out into new, inspiring environments. Stand above the clouds, reboot mind and body, share moments that will last a lifetime.
Escape to the Atlas Mountains. Stretching 2,500 km through Morocco, Algeria and Tunisia, the Atlas mountains are a unique environment for a range of physical activities.
Clare Walters
An ex-professional dancer, Master trainer in mind & body, Clare has always had a passion for movement. Supplementing her dance performance and teaching with yoga and resistance training, she found it a natural transition to the world of fitness and group exercise.
While enthusiastic about teaching all forms of exercise, Yoga is where her passion lies. Clare's classes are playful and challenging, with the underlying theme of celebrating what your body can do while taking it to the edge.
Luke Barnsley
Luke has over 10 years personal training and group exercise experience across a range of training styles. A master trainer, he has created some of the most popular Third Space classes. He only asks you to remember one thing: "It's meant to be tough!"
An excellent motivator with high energy, he's the perfect person to help you find your motivation and keep going to reach the next level.

The schedule
Take favourite workouts into epic open space with morning runs and HIIT sessions lead by master trainer Luke Barnsley. Hike 5 miles through the Ourika Valley, stopping for lunch in a local Berber community. Develop skills and practices that demand time and space, including advanced yoga moves such as inversions and balances, meditation, myofascial release and recovery, and training planning.
SETTLE IN TO THE STUNNING KASBAH BAB OURIKA

kick off with a partner based workout lead by master trainer Luke

UNWIND with a Restorative/Yin yoga Session with master trainer Clare

Meditation 101 masterclass
Optional morning run

Challenging 5 mile hike through the Ourika Valley

lunch at a local Berber house

Myofascial release and recovery with Luke Barnsley & Theragun

Evening Vinyasa yoga session

Nutrition talk/consultations
Optional morning run/Meditation

Morning HIIT session with Luke

Wholesome Moroccan cooking class

Animal flow masterclass

Yin yoga session with Clare

Ancient Berber Hammam & spa
Optional morning run/Meditation

Hike to the Onto hills and National Park

Arm balance inversion masterclass

Animal flow session

Afternoon HIIT session

Evening myofascial release and recovery session
Optional morning run/Meditation

Sunrise yoga & stretch session followed by meditation

Transfers back to Marrakesh airport
kasbah bab ourika
HIGH UP IN THE ATLAS MOUNTAINS, THE ENCHANTING KASBAH BAB OURIKA OVERLOOKS A BREATHTAKING LANDSCAPE. 360 DEGREE PANORAMIC VIEWS? CHECK!
FROM YOUR HILLTOP LOOKOUT AT THE APEX OF THE OURIKA VALLEY A FEAST OF NATURAL BEAUTY WAITS TO MELT YOUR HEART. GAZE DOWN TO THE RIVER AND LET THE OLIVE GROVES, ORANGES AND LEMONS LEAD YOUR EYES ON A COLOURFUL DANCE BETWEEN THE GREEN FIELDS ALL THE WAY UP TO SNOWY MOUNTAIN PEAKS DAZZLING IN THE SUNLIGHT.
THE AUTHENTIC CHARM OF THE KASBAH BAB OURIKA MAKES RELAXATION EASY. WHETHER YOU'RE CHILLING IN YOUR INDIVIDUALLY DECORATED ROOM, OR UNWINDING BY THE SECLUDED SWIMMING POOL, GET READY TO BE WARMED BY THE YUMMY MOROCCAN SUN FROM DAWN TILL DUSK.
Basics
4 nights at Kasbah Bab Ourika

Airport transfers

dedicated Third Space host

Transport to and from activities

Third Space goodie bag
WELLNESS
Yoga equipment hire (1 x mat, 2 x blocks and strap per person)

All fitness classes

Meditation, arm balance inversion

nutrition consultations/ talks

myofascial release

personalised training workshops
culture
Wholesome Moroccan cooking class

2 x hikes in the Atlas Mountains

Ancient Berber Hammam & spa experience

welcome home dinner

special lunch in local berber home
FOOD & drinks
all breakfasts

all lunches inc. water & tea

all dinners inc. Water & Tea

4 x Natural Fitness Food protein shakes post workout

* All meals are nutritionally balanced with locally sourced organic produce

* Shakes can be modified for all dietary requirements
What's not included: International Airfare, Private travel insurance (Mandatory), anything not listed above
book now
PAY £350 Deposit and select accommodation to book your place!
PRICING //
Deluxe room: Shared ( x 2 people) £1,900 pp

Deluxe room: Single occupancy + £540

Suite: Shared ( x 2 people) £1,999 pp

Suite: Single occupancy + £640
Good to know
if you need help with finding the best flight options, shoot us an email or whatsapp and we will gladly help!

reserve your spot with a small deposit. This is fully refundable within 7 days.

For best value price, select 2 px occupancy and we will match you with a same-sex roommate.
FAQ
what time does the retreat begin and end?

The retreat will begin at 3 pm on November 20th and end at noon on November 24th.

what airport should I fly into/fly out of?

You should plan to fly into Marrakech International Airport and fly out of Marrakech International Airport. If this is not possible, we can easily arrange transfers at an additional cost .

Recommended flights for this retreat:

Outbound: Easy jet 7.40am from LGW, arrives in Marrakesh 12.25pm

Inbound: Easy jet 13.15pm from Marrakesh, arrives LGW 15.55pm

What should I pack?

You will receive an email 3 weeks before the trip with tailored packing details.

Do I need travel insurance?

All guests are required to have their own individual comprehensive travel insurance.

i have dietary restrictions, are you able to accommodate for those?

Absolutely, all of our retreats offer vegetarian or vegan options. For other restrictions, we will have to check with our partner venues but we are more than happy to accommodate.

Do i need a passport / visa?

All international travellers to Morocco need a valid passport. American, Canadian, and EU citizens don't need a visa for tourist travel to Morocco . For all other inquiries, please check online or with your local Moroccan embassy. Here is a link for a quick internet search.

Are transfers included?

Yes, all transfers are included.

How long will the travel time be?

Day 1 - One hour drive from Marrakech International Airport to Kasbah Bab Ourika

Day 5 - One hour drive from Kasbah Bab Ourika to Marrakech International Airport